CAMP CONCERT HALL

                                   

Camp Concert Hall is the central venue for the Modlin Center for the Arts' musical presentations, and will serve as the central location for the 2014 Third Practice festival. the hall is specifically designed for music, and is one of the premiere halls to play and record in on the east coast due to its sophisticated acoustical design. The stage is 27' deep and 58' wide.
SOUND SYSTEM

                                   

The Third Practice sound diffusion and reinforcement system is based around a 48-channel, 8-buss Allen and Heath series 4000 console, and a total of 11 main drivers and 4 subs:


8 x Meyer CQ-1 cabinets
2 x Mackie SA 1521z cabinets
2 x Meyer USW-1P Subwoofer
2 x Renkus Heinz CE cabinets, (1 x 94T Mid/High and 2 x 12" sub each, driven by 1 x QSC MX3000 and 1 x QSC MX1500)
1 Center Cluster (1 x Renkus Heinz CE-125T Mid/High and Low, 1 x CEMH-125 balcony fill, driven by 1 RH P-2800 and one QSC MX1500).
See the image to the right for the speaker layout in Camp Concert Hall.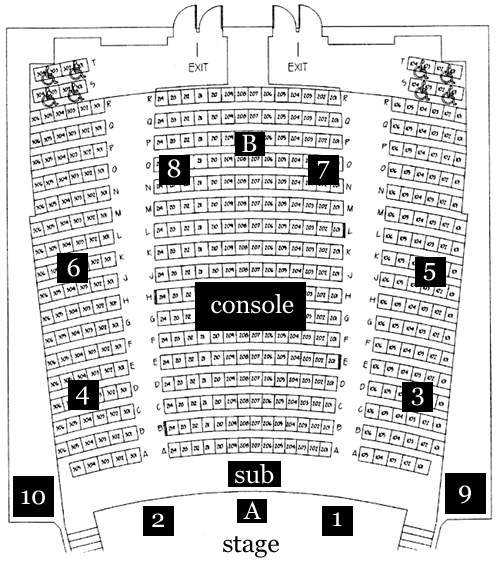 MATT MCCABE: TECHNICAL DIRECTOR

                                   

Matt McCabe is technical director of 3P. Please direction questions to him at mccabe_matthew@columbusstate.edu.